The Way My Body Feels
Considering the links between objects, art, and medicine.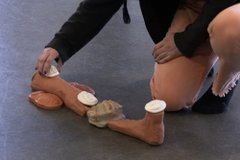 Times
---
Location
Temporary exhibition space, Hadrian's Wall gallery, ground floor.
---
Price
Donations welcome (free entry).
This exhibition documents a series of experimental workshops which considered the links between objects, art, and medicine.
A fourth century BCE terracotta votive womb from The Shefton Collection was central to the workshops. This votive offering represents the transaction between dedicant and deity – either in petition or in thanks for healing.
The workshops explored ancient and contemporary notions of the body and embodiment. The participating students used object handling, creative practice, meditation, and selected readings to investigate what it means to learn through the body.
Within a university setting, the workshops illustrate the transformative role objects can play in education to facilitate radical forms of teaching and learning.
---
With thanks to Michael Atkinson and Dr Jessica Komes, to all of our participants, and to our funders: Wellcome Trust, Catherine Cookson Foundation, Newcastle University's Institutes for Creative Arts Practice and Humanities, and EngageFMS.