Learn - Primary schools
Why visit The Great North Museum: Hancock with a primary school group?
Bringing primary school groups to The Great North Museum: Hancock is a great opportunity to build cultural capital, support your curriculum and bring learning to life. The museum also provides a rich environment for cross-curricular activities, from developing literacy through describing objects, exploring the past or writing a museum review, to observational sketching of animals for science and art. Or, dig deeper into a range of history and science national curriculum topics, from Ancient Egypt to evolution or habitats. We offer workshops, bookable gallery kits and story bags, as well as downloadable and printable activities to help you to make the most of our amazing museum galleries.
"Workshops were excellent and fully supported the curriculum." Primary School Teacher
"Excellent- children engaged and really enjoyed their learning. Resources were super and exciting which again supported the learning." Primary School Teacher
When Can We Visit?
During the Autumn Term 2023/24, we are booking up quickly for workshops, but have plenty of availability for self-led visits. These could involve any of the following:
time in the galleries; booking a gallery explorer kit or story bag; having a lunch space; booking a planetarium show

- have a look in the relevant section below to see what we can offer. Our expert team will be happy to help you to put a brilliant visit together.
We open bookings in May half-term for the Autumn term
We open bookings in October half-term for the Spring term
We open bookings in February half-term for the Summer term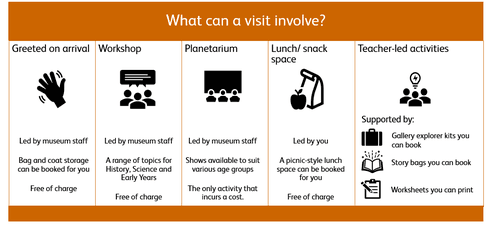 Need more information?
We've provided some hints and tips below, including how to get in touch.