Fossil Stories
See a full size T-rex skeleton, live animals and fossil trees.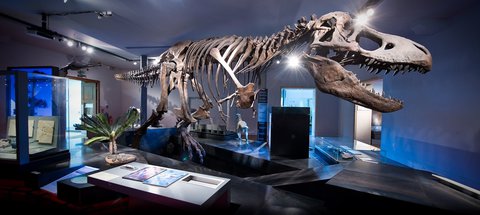 Times
---
Location
Ground floor
---
Price
Donations welcome (free entry). Drop in, no booking required.

---
Summer 2018 - please note that this gallery has been redesigned temporarily for our exhibition Which Way North. Some attractions have been removed from display and others may be obscured. The gallery will return to normal in the autumn.
Discover the Earth's past through its fossil record and find out how amazing some of these creatures were.
Learn about the major changes to the landscape and the animals and plants that were around millions of years ago.
Visitors can become palaeontologists and re-assemble a pre-historic creature using virtual technology. Sound, touch and animation brings alive a world that disappeared millions of years ago.
This gallery also has a display on Crystals and Gems providing a sparkling story about minerals their formation, function and beauty.