Hadrian's Wall gallery
See an inscription stone proving the Wall was built on orders of Emperor Hadrian and more.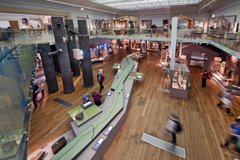 Step through the tree trunks of the museum's forest and enter Hadrian's Wall country.

Here you can learn why, where and how the wall was built, with the help of models, interactive screens and a huge array of artefacts.
These include wall markers, weapons, coins and all kinds of everyday items Roman soldiers used here in the North East.
Find out more about the Hadrian's Wall gallery in our Instagram guide: