World Cultures gallery
Objects from around the world.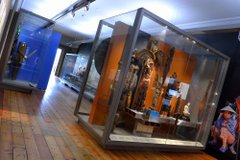 Fantastic feather headdresses, shark-toothed knives and the fearsome bushy-moustached armour of a Samurai warrior… this gallery contains an amazing array of ceremonial objects from all around the world.
Begun by military men, missionaries and other travellers in the 18th, 19th and 20th centuries, this colourful, creative collection is still growing today, thanks to modern-day explorers.
Look around and see what wonders you can uncover…