Secondary schools - other types of visit
What is on offer for secondary schools, other than enrichment days?
For smaller secondary school groups, we offer workshops and self-led visits. Some of our gallery explorer kits aimed at KS2 can still be useful to KS3 groups. You can also use some of our printable activities.
(art)efacts: art with museum objects
A room, artefacts and an introductory talk, then time to sketch or photograph (dry media please!).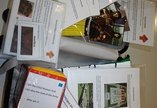 KS2-3, For use in the 'Hadrian's Wall' Gallery
Need more information?
We've provided some hints and tips below, including how to get in touch.
Any online opportunities specific to this topic/age group will be shown below, or click to see all.