Upper KS2: Archaeology, History, Science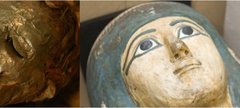 Recommended for year 4+ students.
The students will get to work like an Egyptologist and examine different evidence to discover some of the secrets of mummification. They will use original source material and will look at x-rays and CT scans from the two Egyptian mummified people in the Great North Museum: Hancock.

This session aims to provide a 'real' insight into the journey the mummified people have been on and includes close-up imagery of our unwrapped person which may be unsuitable for some children. Please speak to a member of staff before booking to discuss any concerns you have.
The main learning objectives for this workshop are:
To understand different methods of how Egyptologist's examine mummified people
To learn about Irtyru and Bakt en Hor, the two mummified people at the Great North Museum: Hancock