FREEDOM
This is a historic exhibition. It is no longer available to visit and this page is only retained as a record of the previous event. For current and future exhibitions, visit our
What's On
page.
A four screen film installation inspired by Dr Martin Luther King Jr.'s visit to Newcastle in 1967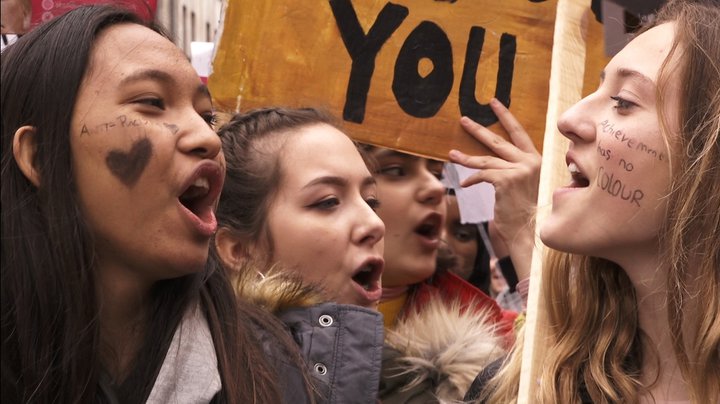 Until 1 December 2017 (historic exhibition)
Great North Museum: Hancock presents FREEDOM, a new work by Newcastle University's scholar-filmmakers Ian McDonald and Geetha Jayaraman.
FREEDOM is a conceptual four screen installation that celebrates the political energy of Martin Luther King Jr and underscores the 'fierce urgency of now'.
Directed by Ian and produced by Geetha, FREEDOM takes the visit of Dr Martin Luther King to Newcastle University (in 1967 to receive an honorary doctorate) as the setting for an exciting visual collocation of the visit alongside and against archive material and contemporary visuals.
A response to his acceptance speech, FREEDOM deliberates on the three interlinked evils of capitalism that he spoke about: racism, poverty and war. Archival footage is combined with an immersive soundscape to weave portrayals of protests and activism in the UK and USA today into Dr King's speech.
FREEDOM moves from the streets of New York to voices in Memphis, marches in London, Enoch Powell's visit to Newcastle and more.
Ultimately, FREEDOM prompts the viewer to ask questions about freedom: What is freedom? What is the relationship between freedom and activism? How do we achieve freedom today?
---
Part of Freedom City 2017 - a city wide programme across Newcastle marking the 50th anniversary of Dr Martin Luther King Jr. receiving an honorary degree from Newcastle University.

Freedom City 2017 is a partnership between Newcastle University, Northern Roots and NewcastleGateshead Initiative.