Natural Northumbria gallery
Discover the natural history of Northumbria.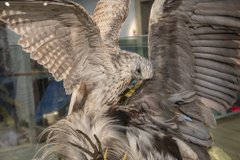 The North East has a fantastic variety of habitats, from remote, wild uplands to lush, grassy lowlands, and from the craggy cliffs and sand dunes of coastal areas to deep, dense woodland.
In this gallery, you can discover all Northumbria's landscapes and the rich animal and plant life they contain.
You'll also see John Hancock's taxidermy masterpiece from the Great Exhibition of 1851: "The Struggle with the Quarry."