Fossil Fish of the Permian Seas Display
Come and dive into the world of fascinating fish that once inhabited the Permian Seas.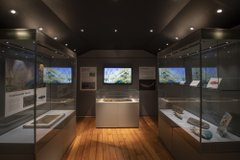 Times
---
Location
Ground floor temporary exhibition space, Hadrian's Wall gallery.
---
Price
Donations welcome (free entry).
Around 250 million years ago, known as the Late Permian period, the land that would become north east England was covered by desert.
As the earth's climate naturally got warmer, ice sheets near the South Pole melted, leading to worldwide sea level changes and flooding.
Our area then became covered by the Zechstein Sea which stretched across the east of England, much of the modern North Sea and into modern day Denmark, Poland and Germany.
We can tell the story of this sea from the remains of fossil fish that have been found in limestone layers in County Durham and North Tyneside. Fossilised plants such as conifers and giant horsetails are also preserved in these rocks.