Wall in Motion display
A spectacular and immersive digital projection mapping experience on a monumental scale.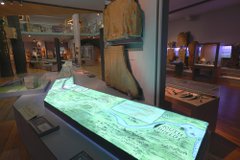 Times
---
Location
Ground floor, Hadrian's Wall gallery.
---
Price
Donations welcome (free entry).
Wall in Motion will bring to life to Hadrian's Wall and its legacy on Tyneside, illuminating what we know about Hadrian's Wall in these less well-known urban areas.
By animating the Hadrian's Wall model in the Great North Museum: Hancock through spectacular and immersive digital projection, and stunning drone footage of the urban landscape on a monumental scale, this site-specific work celebrates the movement and motion of people, objects and stories associated with this grand frontier.
The most famous visible remains of the Wall are preserved in the remote upland landscape of Northumberland. The eastern 27 miles of the Wall, from urban Tyneside to the river North Tyne, are largely invisible, its remains mostly buried beneath modern highways and buildings.
Yet there are important archaeological remains preserved beneath the ground, and Hadrian's Wall has shaped the townscape of modern Tyneside.
Many of the most important archaeological discoveries about the Wall in recent times have been made in excavations in urban Tyneside, and the area contains three of the major forts of Hadrian's Wall – Wallsend (Segedunum), Newcastle (Pons Aelius) and Benwell (Condercum), as well as South Shields (Arbeia), the Roman fort and supply-base at the mouth of the Tyne.
---
NOVAK is a creative studio based in Newcastle, and has presented work throughout the world and at some of the most highly regarded arts festivals, including the UK's largest light festival, Lumiere (London, Durham and Derry-Londonderry), Brighton Festival and the internationally renowned Singapore Night Festival. Their work has been commissioned by the likes of Bloomberg, Google, MTV and has featured alongside many celebrated musicians including Disclosure, Calvin Harris and Jean-Michel Jarre.