The Heart of the Matter
The Heart of the Matter is an exhibition bringing together art and medicine to reflect on the human heart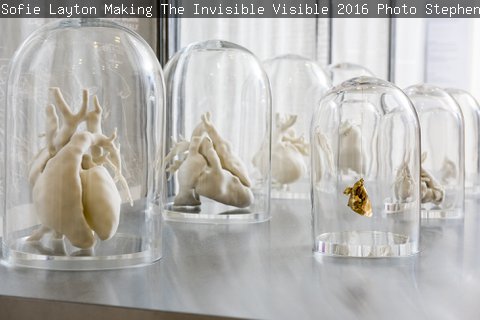 Saturday 24 March - Sunday 13 May
Times
---
Location
Exhibition Hall, 1st floor
---
Price
Free entry, donations welcome. No booking required
---
The Heart of the Matter is an exhibition that brings together art and medicine to reflect on the human heart.
The heart can symbolise romantic love and the centre of human emotion, but it is also the engine room of our body and an intricate piece of machinery.
Through artworks inspired by patients with heart conditions, their families and clinicians, the exhibition invites you to discover the extraordinary nature and
complexity of this organ through medical 3D printing, digital animation, textiles, sound and sculpture.
The Heart of the Matter began with a collaboration between artist Sofie Layton and bioengineer Giovanni Biglino. They brought together patients with heart conditions at London's Great Ormond Street Hospital, the Bristol Heart Institute and the Freeman Hospital in Newcastle to look at the heart emotionally and metaphorically in workshops with scientists, artists, students, and nurses.
Conversations and stories from these workshops in turn inspired artworks that offer insight into the heart's beauty, fragility and resilience.
Following its run in Newcastle, The Heart of the Matter tours to Bristol and London. Find out more at www.insidetheheart.org
#heartofthematter