Which Way North
This is a historic exhibition. It is no longer available to visit and this page is only retained as a record of the previous event. For current and future exhibitions, visit our
What's On
page.
A portal to another world has opened...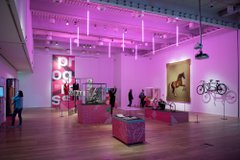 Until 9 September 2018 (historic exhibition)
At the Great North Museum, a portal to another world has opened.
Get your game on and prepare for an adventure. Discover the heart and soul of the revolutionary North and learn how its inventors, scientists and artists shaped the world we live in today - and how you can change the future.
Which Way North is a free, family-friendly exhibition featuring over 200 fascinating items on loan from the UK's leading museums, galleries and private collections. You'll see:
Astronaut Helen Sharman's space suit
A rare miniature book created by Charlotte Brontë
The last piano played by John Lennon
The sonic screwdriver used by the 11th Doctor Who
George Stubbs's world-famous painting Whistlejacket
Damien Hirst's shark sculpture Heaven
John Harrison's groundbreaking marine timekeeper 'H4'
David Hockney's painting Le Parc des Sources, Vichy
And much more...
Are you ready to go? Embark on a journey of Northern endeavour and discovery.
---
See the virtual exhibition A History of the North in 100 Objects