Anglo-Saxons Display
This display will remain closed until we can reopen it safely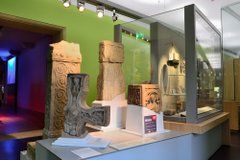 This display will remain closed until we can reopen it safely
Times
---
Location
Ground floor
---
Price
Donations welcome (free entry). Drop in, no booking required.
---
This display will remain closed until we can reopen it safely
After the Romans left Britain in 410 AD, the island was invaded by Germanic tribes, including the Angles and Saxons. Britain split into lots of small, warring kingdoms.
One of the most successful was Northumbria, which soon became a powerful Christian kingdom and a famous centre of learning.
Here you can see a great selection of precious objects from Northumbria's glorious past.