Other Worlds: The Art of Atomhawk
Part of our Ancient Worlds/Other Worlds season.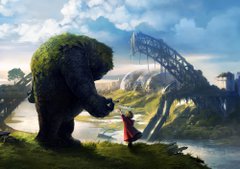 Saturday 7 March - Sunday 2 August
Times
Monday - Friday: 10am - 5pm
Saturday: 10am - 4pm
Sunday: 11am - 4pm
---
Location
Exhibition Hall, first floor.
---
Price
Donations welcome (free entry).
Drop in, no booking required.
Imagination is in all of us. You just have to find the spark.
The art of Gateshead design studio Atomhawk will take you to other worlds in this new exhibition for everyone.
Enter the fantasy universe of The Realm and experience Tyneside like never before as you delve into the process of a digital artist to see what makes them tick.
Atomhawk's designers have contributed to films and video games like Guardians of the Galaxy, Age of Empires and Minecraft Earth. Will they inspire you to begin your artistic journey?