Story Inspiration Station
Explore fascinating objects, craft compelling stories!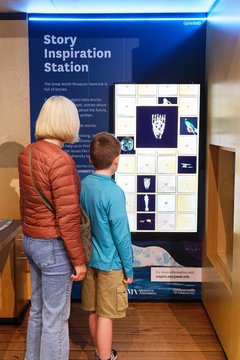 Step into the interactive Story Inspiration Station at the Great North Museum: Hancock's Living Planet Gallery. Pull the lever to reveal fascinating objects from our collection of over 600,000. We want to know more about these objects, their journey to the museum and the people who made them. They hold stories that can tell us about the world we live in. To help with this we want to hear YOUR stories and discover what these objects mean to you.
We will use your unique perspective to share the wonders of our collections with all by adding your information to our records, making them easier to search.
Dive into stories written by fellow visitors and create your own webpage to share online. Together, let's ignite curiosity and continue the story.
Story Inspiration Station is a collaboration between Open Lab at Newcastle University, Tyne & Wear Archives & Museums, the Tyndall Centre for Climate Change Research, and the Centre for Climate Change and Social Transformations. It was funded by a Museums Association Digital Innovation and Engagement grant.