KS2: Archaeology, History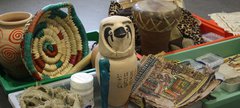 Free*
Duration: 45 minutes

Available on Mondays and Wednesdays.
To extend your groups learning beyond the workshop why not download our resource pack or ask a member of museum staff if you can book the gallery explorer kit. These resources can be view by clicking here.
To make a telephone booking or enquiry call (0191) 208 6865.
In this interactive session, students can discover what work and life was like in ancient Egypt through object handling and group work. Students are challenged to identify objects that would have been used by different people in ancient Egypt, from a priest to a farmer to a Pharaoh, learning about different elements of each job.
The main learning objectives for this workshop are:
To learn about different jobs in Egyptian society
To decide if Pharaoh was the most important job in ancient Egypt.