Butterfly Wall
Weddings, births, graduations, birthdays or anniversaries, each butterfly on The Butterfly Wall represents a special memory or a personal story.
Your beautiful butterflies help build brilliant minds...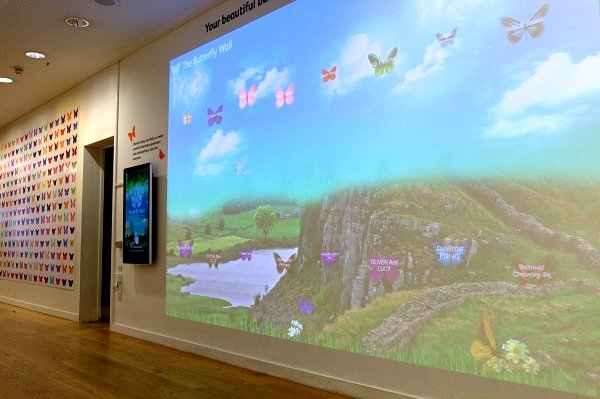 Support Extraordinary
Extraordinary experiences build curious minds. Donate today and help us inspire the great minds of tomorrow.
The Butterfly Wall has been a part of the Great North Museum: Hancock helping visitors remember loved ones and celebrate special occasions since 2009. 2018 has seen the introduction of the Digital Butterfly Wall, a new and exciting next step to involve visitors and their stories with the Great North Museum.
Butterflies start from as little as £10 for one month. If you would like to support this important aspect of our work and include your name (or the name of someone you love) on our Butterfly Wall, please make a donation today.
Donate and order your butterfly online
You can also order your butterfly by calling Catherine Kirkham in our Development team on (0191) 277 2173 or emailing development@twmuseums.org.uk
Thank you!
* A donation is equal to one butterfly; however you can include up to 2 names, e.g. Barbara & Mark Walker, Keith & Tom, Mr and Mrs J. Slade.
Tyne and Wear Archives & Museums Development Trust is a registered charity no1137867 and a company limited by guarantee registered in England and Wales no. 7334262