KS2: Archaeology, History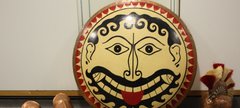 This workshop gives students an introduction into how ancient Greek hoplite soldiers would have trained, some of the objects they would have used and the armour they would carry into battle. Using the objects, students are encouraged to think about what life was like for a hoplite soldier, before using original source material to re-imagine the story of a departing hoplite and consider how he may have felt as he prepared to go to battle.
The main learning objectives for this workshop are:
To learn about what equipment and attributes a Spartan hoplite soldier would need for war
To consider how you would feel as a young hoplite on the battlefields of Marathon.