Boys to Men
This is a historic exhibition. It is no longer available to visit and this page is only retained as a record of the previous event. For current and future exhibitions, visit our
What's On
page.
What does it mean to be a man today?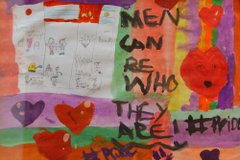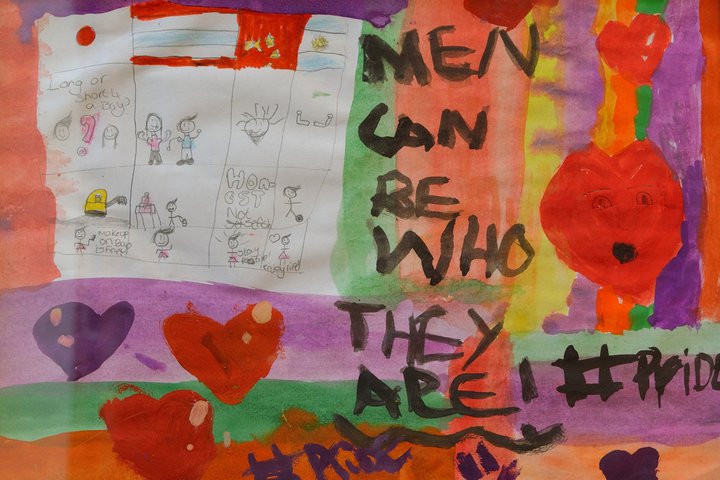 Until 4 November 2018 (historic exhibition)
The current debate about gender and sexual harassment in politics, sport and media offers a depressing picture of 'toxic masculinity'.
To explore a more meaningful and respectful understanding of what it means to be a man, 150 North Tyneside school children have worked together with researchers from Newcastle University and the national children's charity Barnardo's to create a display of artworks.
Using children's toys for inspiration, it was clear that these 9 and 10 year-olds had defined ideas about gender and behaviour. Girls could play with soldiers and cars but boys playing with dolls or dressing in pink caused much hilarity.
Playing with toys created a safe space where the children could talk together about what it means to be a man. They questioned assumptions about manhood, challenging gender stereotypes and expanding masculine identities.
Many children chose to work in groups for the creation of their artworks, and some chose to work alone. All have provided insightful descriptions of their work and the message they are trying to convey.
The artworks on display are the result of the children's discussions, thoughts and reflections. The children's words remain unedited so that they are heard in their own voice.
With thanks to: Professor Anoop Nayak and Dr Carl Thompson (School of Geography, Politics and Sociology at Newcastle University); Tracy Bell (Barnardo's); Oliver Swindler; and Year 5 children and staff of Benton Dene Primary School, Burradon Community Primary School and Denbigh Community Primary School.