Myth Quest: Monsters and Mortals
This is a historic exhibition. It is no longer available to visit and this page is only retained as a record of the previous event. For current and future exhibitions, visit our
What's On
page.
Become a hero, exploring myths and monsters in this fantasy family adventure.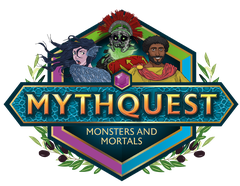 Until 3 September 2023 (historic exhibition)
Watch our teaser trailer to find out more about Myth Quest:
---
The Great North Museum: Hancock has opened a brand-new interactive exhibition - an original fantasy adventure in which the visitor becomes the hero.
Part immersive story, part live-action game, 'Myth Quest' players will take on the role of an adventurer, exploring myths and monsters throughout the museum to complete their quests.
This museum-wide experience begins with Mary Hancock, sister of the museum's original founders. Mary discovered a way to travel through space and time, and encountered many monsters and magical artefacts through her journeys through the Parallel. Her findings aided her in overcoming many challenges, and were documented in Mary's Study, the Mythical Archive and an intriguing newly discovered letter.
Mary Hancock writes:
---
I am writing this in my final days and feel compelled to share the incredible discovery made when I was but a small girl.
I found a way across to a world filled with magical creatures and where our mythology, since dismissed and dismantled by science, is very much alive and well.
I spent many years of my life in the Parallel – a name I came to use of this place – sketching its various botany and wildlife, and now it is my gift to you: adventures of a new age. But be warned, though I grant you passage, what lies beyond is not for the faint hearted. For all of its wonders, the Parallel also holds great danger.
I am still unsure if this is a place where the myths and monsters go or a place from whence they came. I can only hope there is a place for me there also.
Mary Jane Hancock, 1881
PS. I would advise carrying a Time Quartz in the Parallel as they can be used to return to safer times should you misstep in your adventures.
---
Players are welcomed to Mary's Study and Archive where they can choose a magical item to help them on their quest. Taking a map and quartz crystal, players head out into the museum on one of three interactive adventures – through the Foggy Forest of Forgettings, the Serpentine Sea of the Sirens, and the Moody Mountains of the Monsters - to uncover all the Parallel's secrets and become a true hero. Those who complete their quest will earn their place in the 'Myth Quest Hall of Heroes', where they will learn more about all the fascinating objects, magical animals, mythical creatures and quirky characters they have encountered on their journey.
The exhibition is complemented by a Gaming Space with two games by developers Coatsink, for visitors to try out – PHOGS! and Astronimo.
Your fate awaits!
Headline sponsor
Coatsink formed in 2009 and has grown into a diverse and versatile development studio and indie Publisher which is now part of the Thunderful Group. Coatsink has developed and published fantastic games for all current gen consoles, PC and Virtual Reality, including the recent games Get Packed, Onward, Cake Bash, Transformers: Battlegrounds, PHOGS! and Jurassic World: Aftermath. Coatsink has built its reputation on exciting and innovative titles and a wicked sense of humour.