KS2: Science, STEM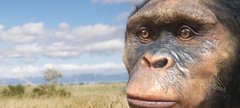 Free*
45 minutes
Available on Tuesdays and Fridays.
This workshop can be followed up by downloading our free resources to use in the galleries if you click this link.
Ready to make a booking? Click the 'booking enquiry' link at the top of the page.

Have a question about this workshop? Email learning@greatnorthmuseum.org.uk
Investigate the processes of evolution through this hands-on workshop. The session starts with an examination of animal adaptations before considering how this helps to drive the processes of evolution. Pupils then use our collection of replica skulls to find out about the evolution of our own species.
This workshop can be complemented with a visit to the Fossil Stories gallery to look at the fossil evidence for evolution and the timescales over which it operates.