Using the Library
Everyone is welcome to use the Library - no membership is necessary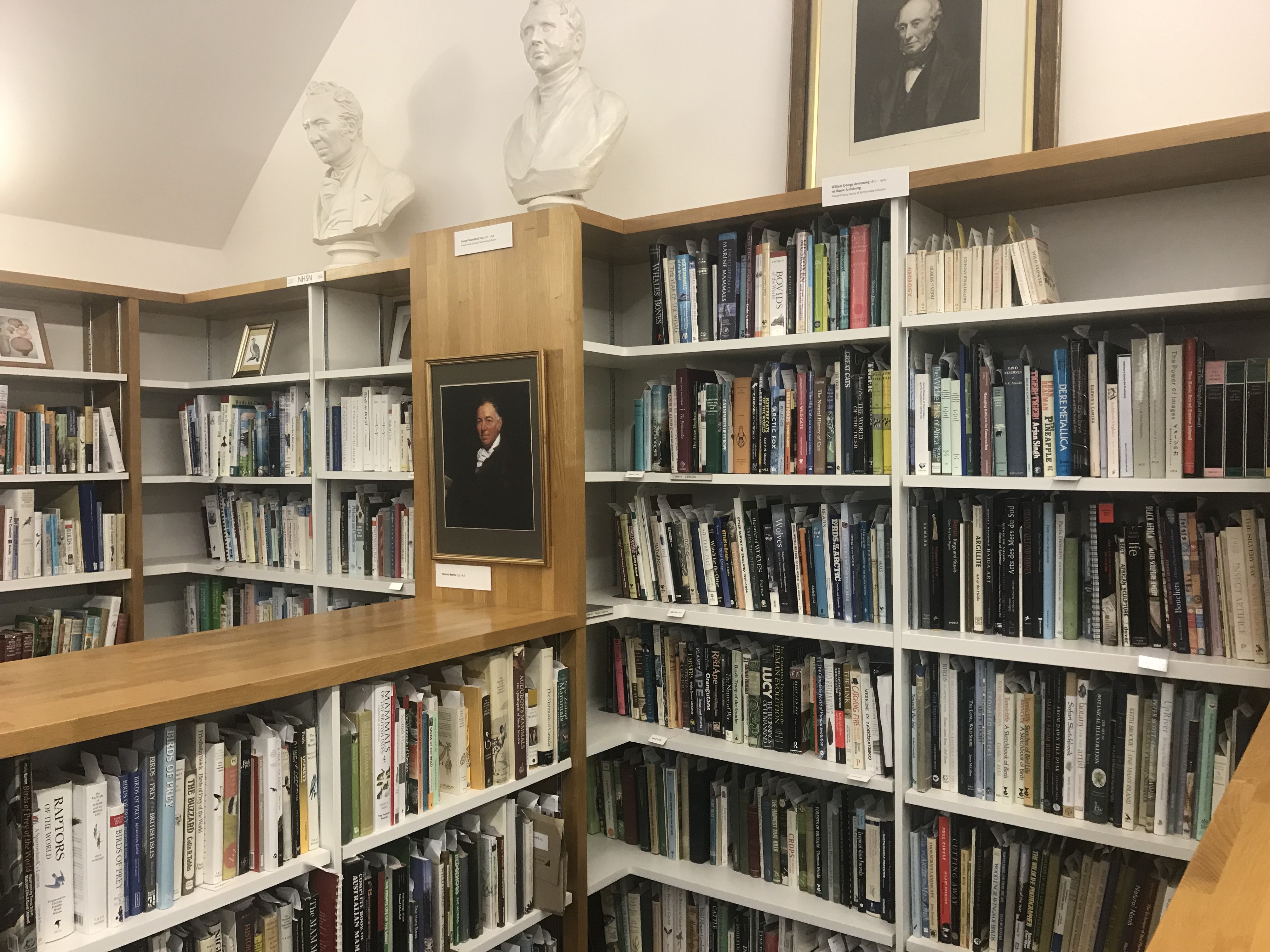 Everyone is welcome to use the Library. While no membership is necessary, borrowing is restricted (see Accessing Our Collections below).
This is an open and working library for researchers, students, volunteers, groups, visitors to the museum and members of the public.

Library activity and noise levels may vary throughout the day, depending on how the Library is being used.

Please help us make the Library a great experience for everyone:

Covered drinks only
No food
Phones to silent, and take calls outside
Be respectful to other Library users.
If you are using fragile, rare or archive materials in the library, or working close to someone who is:
No food or drink
Make sure your hands are clean and dry
Use a pencil if you are taking notes
Treat items with care and respect.
We recommend bringing in an extra layer of clothing, in case you find our temperature-controlled environment a little chilly.
Accessing our Collections
Our collections can be searched using Newcastle University's Library Search. You can filter your results by location to 'GNM Hancock'.
Everyone is welcome to use our books within the Library. Books must not be removed from the Library, unless you have borrowing rights.
Borrowing is restricted to members of NHSN, SANT and Newcastle University, who may borrow from their respective collections. A NHSN or SANT membership card or Newcastle University smartcard must be shown when borrowing books from the Library.

Our public-access books are found within the Library and are arranged by classification number. Our controlled-access items or items stored in our off-site Cowen Resource Centre are not available to browse, but can be requested with advance notice. Please speak to the Librarian if you require assistance.
If you require specific items, please get in touch with the Library in advance of your visit.
Our books and journals are security tagged and an alarm will sound if removed from the Library.
North East Nature Archive
Children's Collection 
We have a small selection of children's books that relate to the Museum. Children and their grown-ups are welcome to enjoy these books together.

Children must be supervised at all times.

Dear children, please do not let your grown-up wander off and get distracted in the Library and Museum!

Our children's books are to be used in the Library and cannot be borrowed.
Library Facilities
The Reader Desk is a communal space that can sit 10 readers, with a combination of chairs with and without arms.

The Library has a dedicated Library Search PC for public use.

There are 3 Newcastle University networked PCs (Newcastle University login required). All visitors are expected to comply with Newcastle University's Computer Use Policy.

You are welcome to bring in your own laptop or other device for research and study. The reader desk has power sockets to charge your device. Please do not leave your device unattended.

Wi-Fi is available throughout the Library via BT OpenZone and Go Digital.

Please speak to the Librarian if you wish to print, photocopy or scan. You are welcome to use your own device to photograph, but please do not use a flash and ensure settings are set to silent.

Whether you are using your own camera or our copying facilities, please remember that you can only make copies for research and study or for non-commercial personal use. It's your responsibility to observe UK copyright law.

We have a Bookeye scanner for Library and Archive work.
Accessibility 
The Library is wheelchair accessible and there is an accessible toilet on the second floor.
Books in our public access area are on high and low shelves. Please speak to the Librarian if you require assistance.

For more information, please visit the Museum's Accessibility webpage.
Family Access
There is limited space for prams/pushchairs. Please use the designated buggy park on the ground floor.
Breastfeeding is welcomed in the Library. You can also use a private breastfeeding area in the World Cultures gallery on the first floor, if you prefer.
There are no baby changing facilities on the second floor. However, facilities can be found on the first and ground floors.
For more information, check out our Visiting with a Family webpage.