Great North Nights
The Museum is closed temporarily and no late events are planned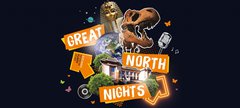 The Museum is closed temporarily and no late events are planned
---
Past events:

World Wide Webs - European Researchers' Night (Friday 27 September 2019)
BLUE Film Screening (Friday 9 August 2019)
The Late Shows 2019 (Saturday 18 May 2019)
Planet 2.0 - European Researchers' Night (Friday 28 September 2018)
The Late Shows 2018 (Saturday 19 May 2018)
The Female of the Species is... (Friday 3 August 2018)
An Artistic Encounter (Wednesday 13 December 2017)
Juice Festival: Our Time (Saturday 21 October 2017)
Science Uncovered 2017 (Friday 29 September 2017)
Wildlife Discotheque (Friday 1 September 2017)
The Late Shows 2017 (Saturday 20 May 2017)
Grown-up Sleepover (Saturday 4 March 2017)
Science Uncovered 2016 (Friday 30 September 2016)
The Museum is closed temporarily and no late events are planned
Great North Nights is our programme of after-hours events at the museum.
Take the chance to explore the museum late.
Be part of an evolving range of special evenings designed for people who love enjoying life, going out and taking the path less travelled.
From grown-up sleepovers to meet the scientist events and wildlife discotheques, Great North Nights are your opportunity to go against the grain and do something different.