KS1, KS2 Science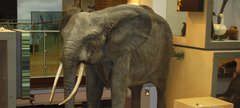 Free*
45 minutes
Available on Tuesdays and Fridays.
This workshop can be followed up by downloading our free resources to use in the animals galleries if you click this link. You could also consider booking our Habitat Explorer Bags or our Food Chains Gallery Explorer Kit.
Have a question about this workshop? Email learning@greatnorthmuseum.org.uk
Nature is huge and diverse so scientists use classification to help understand the world. Whether your students are learning about local wildlife or more exotic creatures we can offer an experience that will get them engaged in the natural world.
The KS1 level workshop examines different ways of classifying animals, firstly by diet, looking at the differences between carnivores, herbivores and omnivores. It then moves on to look at how we group mammals, reptiles, amphibians, birds and fish.
For KS2 we start with the diversity of nature and divide it up into groups before using and developing keys to help classify vertebrates and invertebrates.