KS1,KS2: Cross-Curricular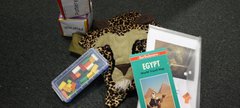 The Ancient Egyptian Resource Box contains activities and resources for use in the Ancient Egyptian gallery. It can be booked out by groups for use during their visit (but it is not for loan outside of the museum. The box complements the Ancient Egyptian workshops available, and also works well for self-led groups, or those making Ancient Egypt part of a visit. Learning occurs through discussion, exploration and creating, as well as the use of the objects and the interactive activities around the gallery. There are seven activities in the box, six of which are designed to be used by smaller groups within the class and one is designed to be a whole group activity.
We would recommend splitting the group into six to rotate them round the smaller activities and then bring the whole group back together for the time capsule activity. It might be advantageous for the same adult to remain with each activity so each adult does not need to learn six different activities.
The activities include;
A page from the Book of the Dead
Look at the tapestry which has a scene copied from the Book of the Dead. Can you work out what is happening in the scene? Can you decipher the Hieroglyphics?
Literacy cubes
Roll the cubes and find something in the gallery that links to the word it lands on; themes include materials, jobs roles and object types.
Egyptian Priests and religion
Find out more about Egyptian priests through costume and artefacts in the gallery. The two costumes included are a fake leopard skin worn by the high priest and a linen skirt worn by lower members in society.
Pyramid building
One activity involves using Lego to build a series of step pyramids and there are two further wooden block pyramids to build. These are designed to be difficult and may suit Upper Key Stage 2 children. Additionally there is the 3D pyramid building interactive in the gallery.
Map reading ancient Egypt
Investigate a map of modern Egypt and try and find places of importance from Ancient Egypt. Additional questions for older children are included.
Object flashcards (also available to download online)
A number of objects from the gallery have been photographed. Try and find the objects in the gallery and answer the questions beneath them.
Time capsule (to be done as a whole group activity)
After spending time in the gallery the group should be able to recommend three things from the gallery that they feel would be important to put into a time capsule if they were alive in Ancient Egypt. Get an adult to write the ideas on a sheet provided.