Award Winning Learning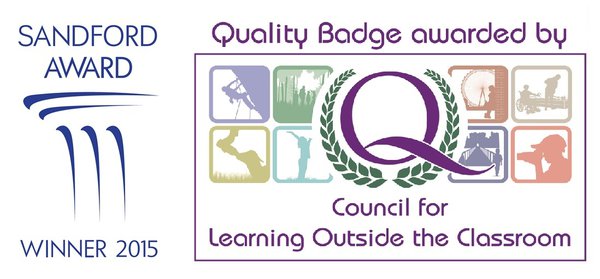 Sandford Award
Each organisation is assessed for the Sandford Award by a panel of independent judges. The current panel includes OFSTED inspectors, former head teachers, education consultants and education officers from heritage properties.

200 historic sites in the UK and Ireland are currently part of the award scheme. These include historic houses, museums, galleries, cathedrals, places of worship, gardens, landscapes and historic artefacts.
The Trust's report summary noted that:
"The Great North Museum: Hancock provides high quality and relevant opportunities for children of all ages. By utilising the breadth and depth of the museum's spaces and collections, the capacity of its regional partnerships and the expert abilities of a highly skilled learning team, The Great North Museum can serve the schools and pre-school settings of the North East with confidence." Sandford Award Judges Report (July 9th 2014).

Learning Outside the Classroom Quality Badge
The LOtC Quality Badge is a nationally recognised indicator of good quality educational provision. It is a national award combining the essential elements of provision- learning and safety- into an easily recognisable and trusted accreditation scheme for all types of learning outside the classroom provider organisation catering to children and young people throughout the UK.
"Well done to the learning team at GNM for providing an excellent education service to visiting schools and educational groups! The museum itself is a fantastic resource but it is the commitment and enthusiasm from the learning team that make it so successful. Feedback from teachers and visiting staff across is of a consistently high standard and as a result of this many schools are return visitors. They operate a very busy service but this does not affect standards. It was a great experience for me to meet staff who genuinely appear to love what they do and work together very well as a team. Keep up the fantastic work!" LoTC Assessor (Assessment Visit Report, February 23rd 2016).
The scheme is managed and developed by the Council for Learning Outside the Classroom
You can download our certificate here.