KS2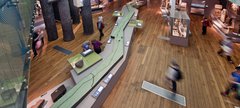 FREE

Sessions are designed for KS2 students in school, at home and other settings.
You may choose to sign your group up for the whole day of activities or a selection.
Joining information and additional resources will be circulated closer to the date.
Home learners and children not in a school setting are also welcome to take part.
Please note that for Safeguarding, adults not accompanying a participating child will not be permitted into any of these sessions.
Join Hadrian's Wall Learning and Engagement Forum* for a day of virtual activities themed around Hadrian's Wall to celebrate the Hadrian's Wall 1900 Festival.
Take part in live workshops, discover more about the various sites across the Wall and submit your questions for one of our experts to answer!
9.15 -10 - Northumberland National Park
Looking after Hadrian's Wall National Trail
Northumberland National Park employs a Ranger and an Archaeologist who are responsible for looking after the Hadrian's Wall National Trail. In this session, you will find out how they care for the Trail, about the habitats of the area, and how the National Park engages with the thousands of walkers who complete the 84-mile route each year.

10.15 - 11 - Great North Museum: Hancock
Ask and Answer
Do you have any burning questions about Hadrian's Wall?
Join our two experts, Dr Rob Collins, Senior Lecturer of Archaeology at Newcastle University, and Dr Frances McIntosh, Collections Curator of Hadrian's Wall and the North East for English Heritage as they answer your questions about Roman Britain.

Questions can be submitted by email to learning@greatnorthmuseum.org.uk
Make sure to get your question to us by Friday 18 March for a chance to get it answered. We may not be able to answer all questions live.

11.15 - 12 – Tullie House Museum
Uncovering Roman Carlisle
Find out what we uncovered during the excavation of a Roman Bathhouse, underneath Carlisle Cricket Club in September 2021. We'll talk all about the who, why, what and how of the archaeological excavation.
12.45 -1.15 – Vindolanda Trust
Focus in on Finds
The Romans used brooches not only to hold their cloths together but also to evoke the gods. Animal (zoomorphic) brooches show different aspects of Roman life. This session will include an opening quiz deciphering what animals are shown on a selection of brooches, a short video about them and a questions and answer session on this subject with the Curator Barbara Birley.


1.25-2.10 - English Heritage,
What was life like living on the wall?
Join us as we explore one of our Hadrian's Wall sites with our Education Visits Officer Helen Klemm. You'll look at the evidence left behind that provides clues as to what life was like for people living along the Wall almost 2000 years ago.
2.20 - 3.05 Arbeia and Segedunum Roman Forts
Little Bear and the Treasure Box- A Sensory Journey through Cultural Exchange at Arbeia Roman Fort
KS1, KS2 and SEND
Explore the cultural diversity of people that lived and worked at Arbeia and Segedunum and see how ideas were exchanged through a 'show and tell' of artefacts from the Roman forts.
Then help bring Arbeia Roman Fort to life through a specially created digital sensory story called 'Little Bear and the Treasure Box'. In this story you will discover the life of the famous Regina and how 2000 years ago Northern Britain was a multicultural melting pot. For the workshop, you will need everyday household objects and supplies to help your class create their own sound effects to join in with the story and utilize all their senses!
Please note that this Virtual Hadrian's Wall Day is open for multiple schools and/or home learners to book. We will instruct all participants to turn cameras and microphones off during the sessions.
For safeguarding reasons adults not accompanying a participating child will not be admitted into any of the sessions.
*Hadrian's Wall Learning and Engagement Forum are a group of museum and heritage education and outreach professionals based on the sites found across Hadrian's Wall.