Great North Nights: World Wide Webs
Great North Museum: Hancock presents World Wide Webs for European Researchers' Night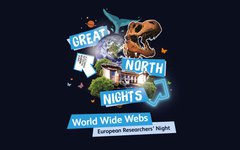 Times
6-10pm
---
Location
Throughout the whole museum
---
Price
Free, donations welcome. No booking required, drop in throughout the evening.
Great North Museum: Hancock presents World Wide Webs for European Researchers' Night
Across the continent, Friday 27 September is European Researchers' Night so we thought we'd open the museum late and fill it with some of the North East's sharpest minds: scientists, thinkers, doers and fun-lovers.
Researchers are the innovators and the risk-takers, pushing the boundaries of what we know and what's possible. Grab a drink at the bar and chat with one about the burning issues of the day. Explore the museum. See Dippy on Tour. Meet a curator. Do something different with your Friday night.
This year's theme is 'World Wide Webs'
Can we preserve nature's networks? The collaborative work of scientists around the world is helping us to understand the interconnected nature of our planet and to protect the web of natural connections that we depend on to survive.
---
This project has received funding from the European Union's Horizon 2020 research and innovation programme under grant agreement No. 819158.
#EuropeanResearchersNight