Wildlife Discotheque is a sonic extravaganza that will guide you through the esoteric world of vinyl wildlife recordings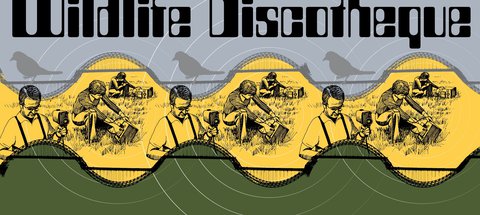 Times
6-9pm
---
Location
Living Planet gallery, ground floor
---
Price
Advance tickets
Age 16 and older - £3
Under 16s – FREE
On the door
Age 16 and older - £4
Under 16s – FREE
Under 18s must be accompanied by an adult aged 18 or older.
---
Ever wondered what grunting Pollack or aggressive Haddock sound like? Have you ever requested Sparkie Williams - The Champion Talking Budgie at your local discotheque or Parakeet Training records? British Wild Birds In Stereo? The 1970s classic - Songs of the Humpback Whale?
Tyneside Sounds Society and Devon based community radio station Soundart Radio join forces to present the Wildlife Discotheque at the Great North Museum: Hancock.
The Wildlife Discotheque is a sonic extravaganza and unique listening experience that will guide you through the esoteric and lost world of vinyl wildlife recordings and spoken word albums.
In between the whistling otters, whining squirrels, skylark, larch, dolphins, dung beetles, hedgerows, fields, oceans and shorelines will be a specially curated selection of sound effects vinyl from the 1960s and 70s, including: the BBC sound effect series; children's albums; poetry compilations and oddities from the fringes of easy listening; instructional public information and self-help LPs; and primitive electronics.
This will be a fun, family-friendly early evening event with a craft beer bar, board games, activities and snacks. A perfect way to end the summer holiday season, kick back after work or warm up before your Friday night out among the Wandering Albatross, Giant Japanese Spider Crab and Permian Fish Fossils of the North's only natural history museum.