Who fancies a fun-filled virtual reality trip underground?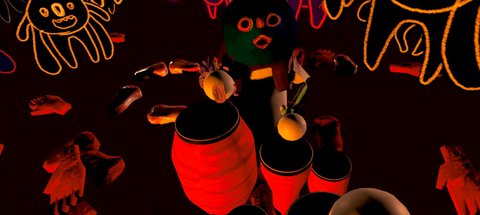 Friday 28 September - Sunday 30 September
Times
Fri 28 Sep: sessions available 6-10pm
Sat 29 Sep: sessions available 10am - 4pm
Sun 30 Sep: sessions available 11am - 4pm
---
Location
Exhibition Hall 3, 1st floor
---
Price
Free.
Due to limited capacity of four people per 15-minute session, advance booking is essential.
Please arrive at least ten minutes ahead of your booked slot. If you arrive after your allotted time on the day we will not be able to guarantee your place.
Become a cave dweller in this comical one-off VR experience and prepare to traverse this fantastical subterranean world, exploring an alternative habitat though the act of chewing.
Exploring the layers of the earth, you journey down underground, finding hidden objects and discovering the next layer by munching the earth beneath you, and a fitting celebratory finale awaits you.
In real life, the next gamers wait expectantly, eager to adorn their headsets and costumes and take their turn. They watch this hilarious, absurd yet magnificent experience from the sidelines.
Playful graphics, a 360˚ field of view, intuitive controls and HD haptic feedback provide an amazing sense of immersion.
Remember – always eat with your mouth open!
---
We Dwell Below is an Abandon Normal Devices commission, co-produced with Ooni Studio. Concept and direction by Laura Juo-Hsin Chen with feature music by Ka Baird. Supported using public funding by Arts Council England.