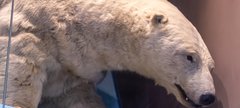 Friday November 5th 2021
EYFS, KS1 & KS2.

Join the Great North Museum: Hancock team for a day of virtual Changing Planet activities. Watch virtual tours, take part in live workshops and relax for story time. You can even submit your questions to one of our experts!
Sessions are designed for a mix of EYFS, KS1 and KS2 students in school, at home and other settings. KS3 students interested in the Changing Planet may also like to take part.
You can sign up to as many of the sessions as you like.
Joining information and additional resources will be circulated closer to the date.
Home learners and children not in a school setting are also welcome to take part.
Please note that for Safeguarding, adults not accompanying a participating child will not be permitted into any of these sessions.
Session 1 – Virtual Museum Tour
9:30 - 10am

Suitable for KS1, KS2 and KS3.
Come on a tour of the Living Planet gallery at the Great North Museum: Hancock.
Discover the different habitats of the world and how they're changing as a result of climate change. Use the 'Can you Find?' sheet to see if you match animals to their correct habitat. Then test your knowledge after the tour with our quiz!
Session 2 – Storytime
10:30 - 11:15am
Aimed at EYFS and KS1.
Session 3 – Ask and Answer
1 - 1.45pm
Aimed at KS2 and KS3.
Whilst politicians and scientists from around the globe attend the 2021 United Nations Climate Change Conference in Glasgow, we'll be joined by an expert to answer any of your questions about global warming and our Changing Planet.
Questions can be submitted by email to learning@greatnorthmuseum.org.uk
Make sure to get your question to us by Friday 29th Oct for a chance to get it answered. We may not be able to answer all questions live.
Session 4 – Workshop
2 - 2.45pm
Aimed at KS2.
Content TBC

---
Please note that this Virtual Changing Planet Day is open for multiple schools and/or home learners to book. We will instruct all participants to turn cameras and microphones off during the sessions.
For safeguarding reasons adults not accompanying a participating child will not be admitted into any of the sessions.