The Hexagon Experiment: Adventures in Flatland
Book online
Join us after hours for music, conversation and art inspired by the discovery of graphene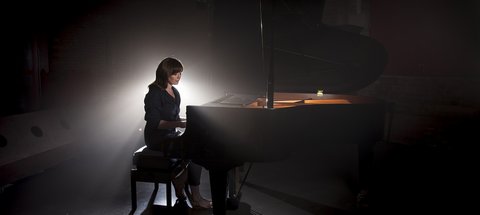 Times
6-8pm
---
Location
Exhibition Hall 3, 1st floor
---
Price
Free, but advance booking required
---
The Hexagon Experiment: Adventures in Flatland
Hosted by Lauren Laverne
Composer Sara Lowes (The Earlies) presents her acclaimed composition inspired by the discovery of the wonder material graphene, alongside the premiere of a new commission of graphene artwork by visual artist Mary Griffiths.
Commissioned by Brighter Sound, Lowes was appointed composer in residence at the National Graphene Institute (NGI) at The University of Manchester, and collaborated with Professor in Nanoscience Cinzia Casiraghi to explore the commonalities between two creative processes: composition and scientific research. The outcome was Graphene Suite, a six movement piece mixing different musical styles, which also paid tribute to the pioneering female composers and scientists of history. Mary Griffiths has also worked in collaboration with Sir Kostya Novoselov of the NGI on a series of visual artworks inspired by graphene, and even created by the material itself.
For this special event both artists will discuss their experiments with art and science, before unveiling Mary Griffiths' new work of graphene art, and presenting a performance of Sara Lowes' Graphene Suite.
Recommended for ages 16+
---
The Hexagon Experiment is a six-part series of Friday night events featuring live music, original commissions and conversations, bringing together women at the forefront of music, art and science.
Part of the Great Exhibition of the North, and presented by creative music charity Brighter Sound and the National Graphene Institute at The University of Manchester.