Download, print and colour in. Reimagine the tombstone!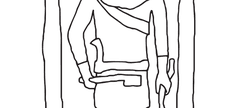 Syrian Archer Colouring Activity
Using modern technology, archaeologists have reimagined what sculptures looked like in Roman times.
Download and print this activity sheet and then have a go at colouring the Syrian Archer's tombstone. How do you think it would have looked like when it was first created?