For Children aged 2-4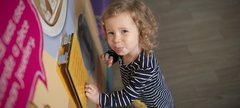 Times
10.30-11.30am
---
Location
Various. Please enquire at the welcome desk on arrival.
---
Booking
This series is free, but advance booking is essential.
Stretchy STEM Stories
For Children aged 2 - 4 and their carers'
Join Georgina, Joe, and Albany Mouse for a four week programme and step into science through Picture books and playdough. You and your little one will learn about how even non-experts can explore the world of science, stretching stories beyond the page and into the world around us. Over the 4 week programme we will take inspiration from 3 picture books to encourage curiosity with science; and develop language skills whilst learning about the world through playful experimentation. Between each session you will be able to borrow the Picture books and playdough to take home with some suggested activities and continue to play together during the week.
This is a pilot series developed between The Great North Museum: Hancock and Northumbria University STEM Outreach (NUSTEM)
Please note that this is a 4 week programme of sessions which will run on:
Tuesday 28th June 10.30am - 11.30am
Tuesday 5th July 10.30am - 11.30am
Tuesday 12th July 10.30am - 11.30am
Tuesday 19th July 10.30am - 11.30am
Sessions are free to attend, however, advanced booking is essential.