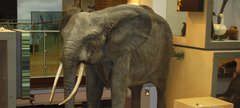 School Visits in Summer Term 2021
It's important that schools feel comfortable when visiting and that we can safely accommodate you. The visiting experience will be very different so it's really important that we speak with you about your needs before you book. This is a learning curve for all of us and we want to make it work in the best possible way for your class.

You are very welcome to visit now that we have reopened, although please be aware that we have to prioritise the safety of all visitors. The following special conditions have been implemented which may make it difficult for schools to visit in large groups:
There is a one-way system of the museum which follows a set route of the museum
Special exhibitions are part of this set route
There are no on-site facilitated workshops on offer, instead we have a range of blended and virtual options
The planetarium is closed
There will be no indoor lunch space available
There will be no storage available on site
We only have blue badge parking on site - if you wish to park your blue badge minibus, please get in touch so we can ensure you have a place
We anticipate that not many schools will wish to make trips out this term, but you are still very welcome to visit the Great North Museum: Hancock if you wish to do so. The visit will be slightly different from normal as we have to prioritise safety at this time:
You will need to follow the one-way system and set tour of the museum
Unfortunately, this means that you will not be able to wander the galleries as you would normally expect to do. As the museum will be open to the general public and to other schools, we need to use a system which keeps everyone safe. You can tour in your class bubbles and we will book you in so as to keep your group separated from public visits or other schools. Please book through the museum learning team (learning@greatnorthmuseum.org.uk) and not via the public booking site, which is not aimed at school groups.
Safety
Following government guidance, any visitors over the age of 11 who do not have a reason to be exempted will need to wear a facemask when visiting the museum - this includes adults visiting with children under 11. We have hand sanitising and hand washing facilities in the building but would also recommend that you implement your own hand sanitising regime in line with your school risk assessment.
Exhibitions
The 'Other Worlds: the art of Atomhawk' exhibition has been extended and forms part of the tour route around the museum.
We will not have on-site workshops
However, we are offering a wide range of blended and virtual learning so that you can continue to explore real objects and use our expertise
The Planetarium will be closed
The planetarium is a small space in which it is hard to be socially distant so it is closed for the time being. We will reopen it as soon as guidelines indicate that it will be safe to do so.
We will not be able to offer indoor lunch spaces for groups
You would be welcome to eat a packed lunch on the museum lawn, but obviously that can be a bit chancy and unfortunately, even if it rains we will not have space to offer you.
Preparation
If your students need to prepare in advance for the museum visit, we have visual stories with text or Makaton and a video tour of the one-way system which you can download to help