KS2, KS3 History, Archaeology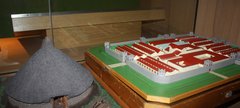 Free*
Duration: 45 minutes
Available on Mondays and Wednesdays.
To extend your groups learning beyond the session why not download our resource pack or ask a member of museum staff if you can book the gallery explorer kit. These resources can be view by clicking here.
To make an enquiry please email us or complete the online enquiry form.
Using our handling collection, roundhouse model and reconstruction of Benwell Roman Fort the students will investigate how Roman 'Roman Britain' actually was.
The main learning objectives for this workshop are:
To understand the impact the Roman invasion had on the people already living here
To see some artefacts from Roman Britain
To think about the legacy of the Romans in Britain