Teacher CPD: Transforming Learning in Science through Collaboration with Museums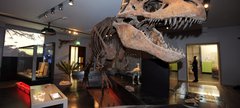 Real World Science Leadership Initiative
Transforming Learning in Science through Collaboration with Museums
'Fantastic course well laid out & resourced. I leave each session with fantastic ideas, resources and contacts.'
After successful pilot years, we are inviting science leads from primary schools to participate in this free, year-long programme, delivered by the Great North Museum: Hancock, funded by the Foyle Foundation and run in collaboration with STEM Learning, North Tyneside Learning Trust and the Natural History Museum.

You can download more information here, but if you would like to talk about the programme or sign up, please contact Dr Kate Holden: kate.holden@twmuseums.org.uk

The programme runs as 6 sessions (2 full day and 4 half day) through the academic year and is free to participating schools. Museum staff and local experts will work with primary science leaders to:
increase the teachers' knowledge of the human and physical resources of museums which can be used to support science learning, using the Great North Museum: Hancock as an example;
give science leaders access to areas of the museum and to experts in order to develop their own knowledge and skills for dissemination among their colleagues;
support science leaders in developing a programme of museum visits to explore enquiry and object based learning, teaching at greater depth and mastery learning in the science curriculum;
increase science leaders' networks of people and organisations who can support science learning in your school;
bring enhanced excitement and confidence about science to your school's staff and pupils.
Dates for the 2019/20 Sessions
Friday 27 September 9.00 - 4.00
Friday 15 November 1.15 - 4.00
Friday 31 January 1.15 - 4.00
Friday 20 March 1.15 - 4.00
Friday 8 May 1.15 - 4.00
Friday 3 July 9.00 - 4.00