KS1 & KS2: Science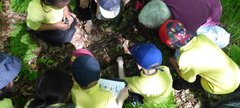 Free*
Available before October Half Term and after Easter. We do not normally book for visits to the Nature Reserve over winter because of the uncertain weather and the muddiness of the site, so if you are interested in animal and habitat topics but want to visit then, we would recommend our Animals workshop which is entirely museum-based.
Please note that Gosforth Park Nature Reserve is managed for the wildlife, so we can only take one class there at a time in order to control numbers. This part of the trip is run by the Natural History Society of Northumbria, so we will need to organise timings according to their availability as well as that of museum staff.
The museum-based part of the day can be complemented by downloading our free resources to use in the museum galleries if you click this link or we can book the group the Habitat Bags to use which you can find out more about here.
To make a telephone booking or enquiry call (0191) 208 6865.
*Make a donation to the Butterfly Fund to support the learning programme.
Combine your visit to the Great North Museum: Hancock with a trip to Gosforth Park Nature Reserve. Nature Detectives learn about life processes and living things first through an Animals workshop at the museum, then through hands-on investigation at the Nature Reserve. This programme allows you to choose from a menu of outdoor activities to suit your teaching requirements, group size and time at the site.
All visits include a 40 minute walk along a nature trail to visit woodlands, reedbeds and a viewing hide. At points along the way the children stop to carry out activities such as "Leaf Bingo", "Wildlife Detectives", "Mini-beast Hunters" or "Wildlife Spotters".
Gosforth Park Nature Reserve is a private wildlife refuge just 3 miles from Newcastle city centre run by our colleagues at the Natural History Society of Northumbria. The reserve and its wildlife are featured in one of the display cases in the Great North Museum: Hancock and this is a fantastic opportunity for children to visit in real life.