KS2: Science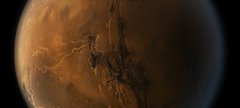 Take part in the new era of human exploration.
This workshop focuses on space travel and the problems facing current and future astronauts who spend time in space before rocketing the pupils to Mars itself where they have to work out what will useful to take with them to the Martian surface and which Earth essentials just won't work on another planet.
Finally the pupils must design a colony to provide everything a group of humans would need to survive on Mars - can they use their knowledge to help their colonists survive?
This workshop provides a superb ending to a unit on space and also focuses a lot of thinking skills and problems solving. We also recommend that pupils see a Planetarium show - 'Earth to the Universe' about space in general, 'We are Aliens' about life in space and 'Amazing Telescopes' about stars and astronomy are most appropriate - alongside this workshop, but this is not essential (nb: planetarium visits incur a charge).