Hear the inspiring story of paralympic gold medalist Megan Giglia MBE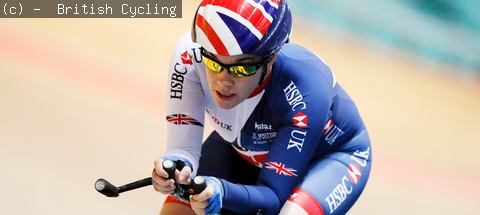 Times
6-7pm
---
Location
Exhibition Hall 3, 1st floor
---
Price
Free, but advance booking required
---
Megan Giglia MBE suffered an Acute Brain Haemorrhage (Stroke) in January 2013 after walking into A&E with severe headaches, a blood shot eye and stiff neck at the age of 27 years. Following surgery Megan had physical and neurological complications to overcome including right side hemipleagia, drop foot, epilepsy, dysphagia (difficulty swallowing), dysphasia (speech impairment) and a variety of other neurological issues.
After self-discharging from hospital, Megan took up cycling to increase the speed of her recovery, improving mobility and gaining emotional strength and self-confidence. Using shoelaces, Megan tied her hand and foot to the bike to replicate their movements, only being able to stay upright on the bike for a couple of seconds at a time to begin with.
Megan is now part of the Great Britain Cycling Team. In 2016, Megan set the standard at the UCI Para-Cycling Track World Championships where she not only took home two gold medals but also smashed both of the world records for her races. Megan's most recent career changing success at the Rio Paralympic Games 2016 has proven her determination to succeed, bringing home the first gold for our country and two world records.
Megan is now continuing with her cycling journey with her sights clearly set on Tokyo 2020.
Suitable for the whole family (ages 8+ recommended)