Great North Nights: Making Marks
Make your mark and add your art to our virtual cave wall in the planetarium.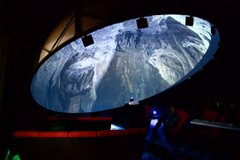 Times
5-8pm
---
Location
Planetarium, first floor. The museum galleries will also be open, including Dippy on Tour.
---
Price
Free, donations welcome. No booking required, drop in throughout the evening.
Be surrounded by the marks of our changing world then add your own!
Making Marks is a new 360-degree interactive and immersive digital artwork that presents visual and sonic marks of our changing world inside the planetarium, which is transformed into a sea cave.
Some of these marks relate to objects you can find in the Great North Museum: Hancock's collection, and others to the ways we are changing our world today.
Making Marks asks how you will leave your mark on the world in the future and invites you to make a drawing inspired by the environmental messages of our Dippy on Tour exhibition. Drawings then become part of the growing artwork and are projected onto the planetarium cave walls for all to see.
Get involved and give it a try whilst enjoying special evening access to the museum galleries and Dippy the Dinosaur.
---
Making Marks is a collaboration between Martin O'Leary, Simon Bowen, and David de la Haye with contributions from Sarah Mander, Alistair Ford, and Jo Whitfield.
Making Marks is supported by Open Lab and the Tyndall Centre for Climate Change Research.
---
This event will also run as part of European Researchers' Night on 27 September and during our Silent Disco on 4 October.