October Half Term
Find out what we've got planned for October Half Term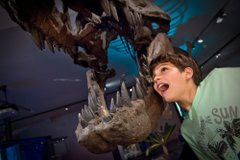 Join us this October Half Term for fun, family-friendly activities.

Daily
Planetarium
Hooray! The Planetarium is open again from 23 October. Book your tickets on the day at the Welcome Desk.
Mouse House
Double hooray! The newly refurbished Mouse House gallery for under 5s will open from 25 October.
Where did all the Animals Go?
Have you seen this fantastic new exhibition of children's artwork in the Living Planet gallery? Hundreds of kids have drawn endangered animals using biro pens.
Hancock Café
Our main upstairs café is open for half term. Please help us if you can by enjoying a pit stop - all purchases support the Museum.
Fossil Fish of the Permian Seas: New exhibition for October 2021
---
Wednesday 27 October
Fix It Café
11am - 3pm, free, drop in
Don't throw it away, fix it! Join the skilled makers and menders from the Fix It Café to bring your broken and worn items back to life.
---
Thursday 28 October
Marine Day - Oceanic Adventures
11am - 3pm, free, drop in
Come along for a one day spectacular event exploring Marine life and the impact we have on our oceans. Join Newcastle University researchers, get hands on with touch tanks from Dove Marine Laboratory, and take part in opportunities to learn about and draw vulnerable ocean species with artist Jane Lee McCracken.
Marine Day - Museum Storytime
11am & 1pm, free, booking essential
Join Albany Mouse and Georgina on a journey as we read a special story, 'Little Turtle and the Sea' by Becky Davies.
Great North Nights: Eurythenes plasticus: The New Face of the Plastic Pollution Crisis
6-8pm, suggested £3, booking essential
Researchers from Newcastle University have discovered a new species of deep-sea amphipod and named it to highlight the global extent of the plastic pollution crisis. Come and learn more about the impact plastic has on our marine life. Leave inspired to take action at home.