Hadrian's Cavalry: Shock and awe – the power of the Roman cavalryman's mask
A Hadrian's Cavalry exhibition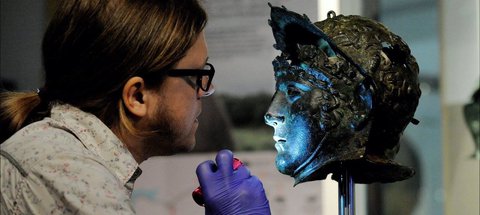 Until Sunday 10 September
Times
---
Location
Hadrian's Wall gallery
---
Price
Donations welcome (free entry). Drop in, no booking required.

Taking place from Saturday 8 April to Sunday 10 September 2017, Hadrian's Cavalry explores the role and daily life of the Roman army's cavalry forces in a unique wall-wide exhibition that stretches the full 150 miles of the Hadrian's Wall World Heritage Site area – from Maryport in the west to South Shields in the east.
---
Great North Museum: Hancock
Shock and awe – the power of the Roman cavalryman's mask
A cavalry trooper projected a powerful image. Their appearance reflected the power of the Roman Empire as well as the man behind the mask
For the very first time, two bronze Ribchester-style Helmets are being displayed together, including the British Museum's famous Ribchester Helmet, found in 1796 and dating from the turn of the 2nd century AD.

---
Hadrian's Cavalry is funded primarily through Arts Council England's Museum Resilience Fund and managed by a partnership of heritage organisations from across Hadrian's Wall.
To find out about exhibitions and events at other venues, please visit the Hadrian's Cavalry website.