Great North Nights: Festive Folklore and Magical Musings
Buy tickets
Get ready for the most enchanting night of the season!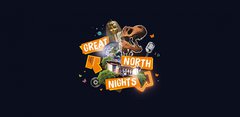 Time
6pm – 8pm
---
Price
£6, or add some extra sparkle with a £2 donation (booking fee applies)
---
Need to know
Great North Nights events are developed for adult audiences, not children, and they are occasions for people to enjoy the museum after hours.
The themes and content of these events are as such not necessarily suitable for children.
We encourage you to experience these events child-free but if you do decide to bring children, please be mindful of the nature of the content and the experience of other visitors who may wish to visit the museum in a child-free environment.
If you are wanting to visit with young children after hours, please look out for our family friendly after hours events in 2024.
When the nights get longer, the magic gets stronger! Join us for a night of wonder at the Great North Museum: Hancock. This December, we're diving deep into Stories, Folklore, Legends, and Magic to kick off the festive season stress-free.
What to expect:
Embark on a musical voyage guided by the rhythms and eclectic sounds of DJ Awkward Black Girl, known for her bold approach to mixing genres and passion for creating a fun music experience for all

Groovy Jazz from the fantastic, local Bold Big Band
Spellbinding performance by Dr. Rob Mackay, an award-winning composer from Newcastle University
Spirits, spells, and mysteries with Dr. Stephanie Holton and her team
Craft your own magical curse tablet, Roman style, with Dr. Stuart McKie
Dive into ghostly tales of Victorian Newcastle with Icy Sedgwick
Mischief and mayhem in magic stories from The Moss Troopers
Explore the epic Finnish folk tale, The Kalevala, through film and sculpture with Bridget Kennedy and Mwenza Blell
Get inspired by Steve Kendall's creative response to the Anglo Saxon Franks Casket
Discover the myths and legends of money lenders in films, T.V. and literature with Dr Jane Brown Lecturer in Marketing and Researcher in Consumer Financial Decision-Making, Newcastle University and Prof. Jillian Farquhar from Solent University


Explore Gems and charms associated with witchcraft with the Geordie Witch

Investigate the dark and disturbing Newcastle Witch trials with the Museum Archives team

Explore the magic of Ancient Greece with Leah Wild, from Cambridge University

Experience a supernatural nature quiz with staff from the Environmental Records Information Centre

North East

Meet the team behind

Storyweb

, an interactive activity collecting stories of museum objects

Sip on delectable Stu Brew treats, straight from Newcastle University's student-run brewery
Dive into our brand new cocktail menu and enjoy fresh pizza all night long.
And more surprises to come!
Don't miss out – this is our grand finale for 2023! You're in for a night of fun, learning, and enchantment in our beautiful museum after hours. It's a rare chance to explore our collections and groundbreaking research, all while having a blast in one of Newcastle's most spectacular buildings. See you there!
---
The Great North Museum: Hancock is a five-minute walk from Haymarket Metro station.
Plan your journey in advance and track your Metro train in real time with the Pop app. Search 'Nexus Pop' on Google Play or the App Store.
Those who are 21 and under can now access single fare bus, Metro and Shields Ferry journeys for just £1. The new offer makes public transport a more affordable way for young people to travel to our museums and galleries and covers many services in Tyne and Wear, Northumberland and County Durham.