Great North Nights: Eurythenes plasticus: The New Face of the Plastic Pollution Crisis
Buy tickets
Come and learn more about the impact plastic has on our marine life. Leave inspired to take action at home.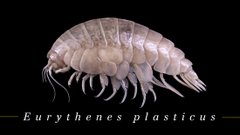 Times
6-8pm.
---
Price
Pay what you can, suggested £3 - click here to book online in advance.
Researchers from Newcastle University have discovered a new species of deep-sea amphipod and named it to highlight the global extent of the plastic pollution crisis.

The amphipod - known in informal speech as a "sandhopper" - lives between 6-7 km below sea level in the Mariana Trench, one of the deepest places on Earth. For reference, Mt. Everest is 8.8 km above sea level. Because of the scarcity of food in the deep ocean, Eurythenes has adapted the ability to eat just about anything that sinks down into the trench. Unfortunately, as non-picky eaters, they are susceptible to accidentally eating plastic. One of the 11 specimens had microplastic fibre in its digestive tract. That fibre was 84% similar to polyethylene terephthalate (PET), the primary polymer of household items such as single-use plastic bottles and workout clothes.

Eurythenes plasticus represents a tragic milestone, as the first time plastic has been documented in a new species. But Eurythenes plasticus has a mighty message. Join us at the Great North Museum: Hancock as we unveil our new exhibit in the Living Planet Gallery featuring Eurythenes plasticus and the deep ocean.

Come and learn more about this recent discovery and the impact plastic has on our marine life. Leave inspired to take action at home. We will also discuss the transition from scientific research through to museum exhibition and animated film.

The evening will feature talks and discussions from Dr Johanna Weston and Alan Ramsay, and there will also be the opportunity to take part in some fun marine based activities.
---
Dr Johanna Weston is a marine ecologist, who loves to study amphipods. She led the discovery of Eurythenes plasticus, and she is passionate to share with you how your actions on land are connected to the deep sea.
---
Alan Ramsay joins us from Roots and Wings, the creative force behind the animated Eurythenes plasticus film. Roots and Wings are a multidisciplinary design company made up of creative problem-solvers, dedicated to tackling a wide array of projects, all of which have a social or environmental objective.