Inspired by Whistlejacket - Equine Day
Inspired by the painting Whistlejacket, enjoy a day of activities dedicated to horses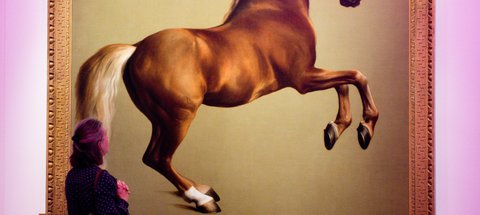 Times
Panel talks with Dr Susan Foister, Dr Pauline Addis and Aimee Shiel at 11.30am, 1.30pm and 2.30pm
Sessions with Matt Leach at 12.30pm and 3.30pm
---
Location
Exhibition Hall 3, 1st floor
---
Price
Free, donations welcome. No booking required, drop in.
The world famous painting Whistlejacket by George Stubbs is on loan to the Great North Museum from the National Gallery.
Hear from Dr Susan Foister, Deputy Director of the National Gallery, about how Stubbs came to paint this heroic, life-size portrait of a thoroughbred racehorse. Many stories have been told about the painting but are any of them true? And how did Whistlejacket end up in the National Gallery?
Dr Pauline Addis of Newcastle University was parked on a horse at the age of 5 and since then horses have taken over nearly every aspect of her life. Pauline reckons that horses are the ultimate athlete and are extremely well adapted to move quickly and for long periods of time. She'll be speaking about how this allows them to be used for a variety of equestrian sports, from dressage to three-day eventing.
Aimee Shiel has a lifelong passion for horses. Alongside running North East Animal Massage, Aimee also works as a Horse Bit Consultant for the company Horse Bit Fit, checking, fitting and adjusting bits and bridles. She will be discussing the conformation of horses, problems that can occur as a result of bad breeding and how the bit and the horse's mouth can change how a horse moves and their attitude to work.
Dr Matt Leach is an animal welfare scientist at Newcastle University. Matt's research focuses on developing effective methods of assessing and alleviating animal welfare problems in a wide range of species, including horses, rabbits, dogs and cats. In his sessions, Matt will focus on recent advances in the assessment of pain in horses, including the use of facial expression. You'll be trained on how to rate pain in horses using the Horse Grimace Scale.
Emma Lawrence, an Equine Dental Technician, will also be at the museum with a stall on the importance of horse dentistry.
Suitable for ages 8+