EYFS, KS1, KS2, KS3, KS4, SEND Archaeology, history, science, literacy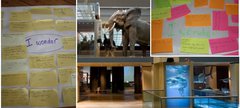 I see, I notice, I wonder, is a versatile enquiry activity based in a gallery of your choice.This technique is ideal for supporting child centered learning and it can be used as a springboard into a new topic or as a planning tool.
By the end of the 30 minute session an A1 sheet will be generated which can be taken back to school and incorporated into the classroom learning.
Please specify when you make a booking enquiry which subject area you are interested in supporting:
Ancient Egypt
Ancient Greece
Stone Age to Iron Age
Roman Britain
Anglo Saxons
World Cultures
Fossils and Dinosaurs
Animal Kingdom
Explorers
Literacy
If you have a subject in mind which is not on this list but you think our collection can support it then please let us know.
The main learning objectives for this session are:

To improve speaking and listening skills
To increase curiosity in the museum gallery and subject matter