Visits to see Dippy, the Natural History Museum's iconic Diplodocus cast on his visit 18 May - 6 October 2019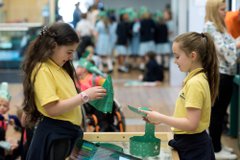 *Free
Available daily
Dippy, the Natural History Museum's iconic Diplodocus cast will be visiting the Great North Museum: Hancock from 18 May to 6 October 2019 as part of his national tour.
Dippy's tour isn't just about dinosaurs. He is going on a natural history adventure to encourage people to explore nature and to inspire the next generation of scientists. In addition to Dippy himself, the museum will feature an exhibition which explores environments of the past, present and future. It will include extinction and biodiversity loss, climate change, food and energy and local nature.
*Make a donation to the Butterfly Fund to support the learning programme.
A visit to see Dippy could include:
timed entry to see Dippy himself
exploration of the exhibition around the rest of the museum. Downloadable resources to support this are available here
our normal workshop programme is available as usual and you can find details of our science, history and early years workshops on the website
All our normal gallery material will still be on display during Dippy's visit, so if you want, for example, to support your Ancient Egypt topic as well as visit Dippy, you will still be able to do so.
To prepare for your visit, or to follow up after it, you could use some of the resources which the Natural History Museum have created to support Dippy's tour. You can...
and lots more if you explore the website!