A series of free dance workshops facilitated by Liz Pavey from Northumbria University.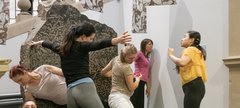 Time
10am refreshments
10.30am - 12.30pm
---
Price
Free. Booking essential.
For more information or to book a free a place please contact: Email: joanne.charlton@twmuseums.org.uk, Tel: 0191 277 2297
Do you enjoy…
Dance or mindful movement practice?
Being creative?
Meeting new people?
Learning new things and discussing ideas?
We all carry deep time within us. In a busy world, the Deep Time Bodies project offers space to slow down and take time giving attention to our felt experience.
A chance to:
Learn new movement and choreographic skills
Be part of an ensemble bringing together people of different ages and backgrounds
Share ideas and gain new knowledge